Our community could not be where it is without the brave men and women who serve and protect us daily. This month, the spotlight shines on Erath County's newest Fire Marshall Tommy Shelton. After graduating from Stephenville High School, Shelton attended Tarleton State University to receive a bachelor's degree in criminal justice. Since 1989, the Stephenville native has served as firefighter and by 1990 became a police officer as well. During his 30-year career as a fireman, Shelton served 20 of those years on the DFW Fire and Rescue Team while simultaneously serving on his hometown fire department as well.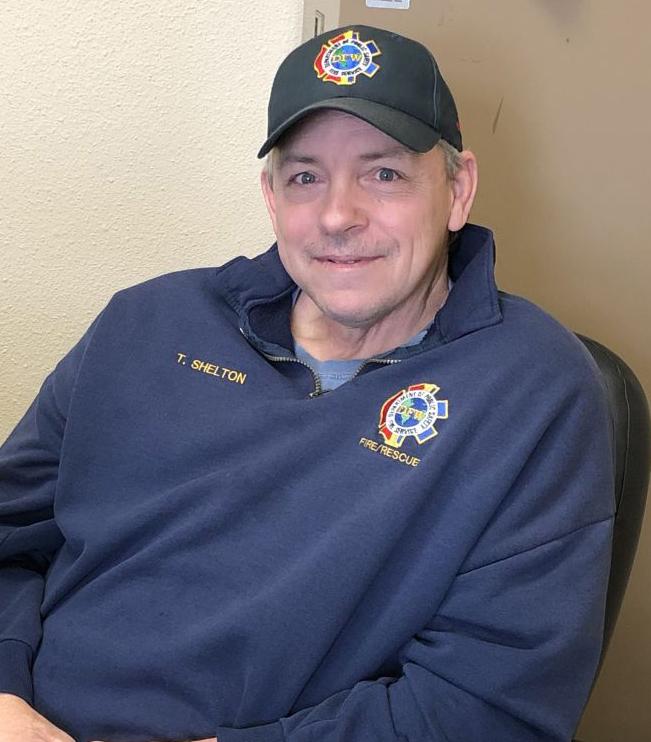 Shelton admits that out of his two careers, he has always had a strong passion for the fire fighting side of his job. "No one in my family ever served as a firefighter or police officer. I think I am naturally crazy because I've always enjoyed exciting things. I used to rodeo back in the day also", said Shelton.
Along with an adventurous side, Shelton also has a kind and helpful heart. During his long and fulfilling career, this hometown hero found time to be a founding member of the Erath County Volunteer Fire and Rescue, become a Mason of the Masonic Lodge, serve as vice president of county livestock association, and be a member of the Lions club. As if he isn't already busy enough, Shelton also manages his own family farm. Through both his career and personal life, Tommy Shelton exudes community pride and serves as a wonderful example for the young people of our community. When asked what advice he would give the youth of our community, Shelton said, "I would tell anyone who is trying to better their life that they can do anything they set their mind to. Work and work hard, nothing is impossible if you do. If there is truly something you want, then you can accomplish it."
Thank you for your devotion to our community and congratulations Fire Marshall Tommy Shelton!
– The Business Team
Scott | Josh | Jeremy
The Allen Firm, PC
Stephenville:
181 S. Graham Street | Stephenville, Texas 76401
Ph: 254.965.3185 | Fax: 254.965.6539
The Allen Firm at Willow Park
5189 E Interstate 20 Service Rd N STE 104 | Willow Park, TX 76087
Ph: 817.207.5642 | Fax: 254.965.6539
The Allen Firm, PC is a team of people located in both Stephenville, Erath County, Texas and Willow Park, East Parker County, Texas. Our attorneys guide people involved in legal situations to good decisions, a resolution, and help restore their peace of mind. We serve accident victims, bankers, business owners, teachers, contractors, builders, families, farmers and ranchers, first responders, medical professionals, seniors, real estate agents, landowners, and people involved the oil, gas, and energy industry.
*This article has been written and provided for educational purposes in an attempt to provide the reader with a general understanding of the particular topic and area of law covered in this Article. It is not to be relied upon for any purpose. The reader acknowledges the underlying analysis and legal conclusions referenced in this Article may be inaccurate by the changing of the law or by a controlling court opinion to the contrary. No attorney-client relationship exists until an appropriate engagement letter has been signed. Contact our Firm to discuss how the contents of this Article may apply to your specific situation.