A common misconception after a disaster is that FEMA is the only agency helping. That's mostly wrong though. Many federal and state agencies take their cues from FEMA after a disaster, but the U.S. Small Business Administration (often just called the "SBA") plays a vital role in the disaster recovery process. FEMA's disaster recovery assistance programs are "grants" that victims of a disaster generally don't have to pay back. However, the grants are very limited and only help get the recovery process started.
In contrast, the SBA offers low interest loans to households and businesses after a disaster. What is very cool about this program is that the SBA doesn't always need a Presidential disaster declaration to make these low-rate loans available. This is because many different circumstances could make somewhat of an "economic disaster" for an area (like droughts, military deployments, or shifting ocean currents) that wouldn't otherwise get a Presidential disaster declaration. Here are some details on the programs:
For Individuals and Households.
The SBA offers households "Home Disaster Loans" that can be used to repair or replace property and belongings after a disaster. Though the name can be misleading, loans are available to both homeowners and renters. Loan money can be used to repair or replace damaged real estate or personal property owned by the victim/borrower. However, renters are only eligible to use the loan proceeds for their personal property losses, including automobiles. This can be a relief for some Americans, since nearly 32% of trade-ins at U.S. dealerships in 2016 were "upside-down" (or the owner owed more on the loan that what the car was worth). If the SBA offers loans in your area following a disaster, the best thing to do is apply online at https://disasterloan.sba.gov/ela. You can also call the SBA Disaster Loan Assistance Customer Service Center at 1-800-659-2955.
For Businesses and Non-Profits.
Like the name suggests, the SBA is designed to support small businesses across the country. After a disaster, the SBA can offer businesses and some non-profit organizations up to $2 million in disaster assistance (through the loan program). There are a few different types of loan programs available to businesses. The difference is what the loan money can be used to pay for.
"Physical Disaster Loans" are designed to help replace real estate, equipment, fixtures, inventory, and improvements to property that help prepare for (or mitigate) another disaster. [7] This program allows businesses to finance badly needed repairs and improvements that may have not been insured or did not have enough insurance to cover.
"Economic Injury Disaster Loans" are designed to help give businesses and non-profits the working capital they would have had, if the disaster hadn't occurred. What that means is: The SBA loan is not going to save a failing business and help pay its bills after a disaster. The loan is designed to help cover the lost revenue that would have come in the doors, and keep the business during the recovery process. [8]
Conclusion.
All of this is to say that the SBA is another vital resource to help families and businesses get back on their feet after a disaster. With over $1.5 Billion loaned to households in 2016 and another $537.7 million loaned to businesses, the SBA is a ready-partner to those that might need credit extended to them following a disaster.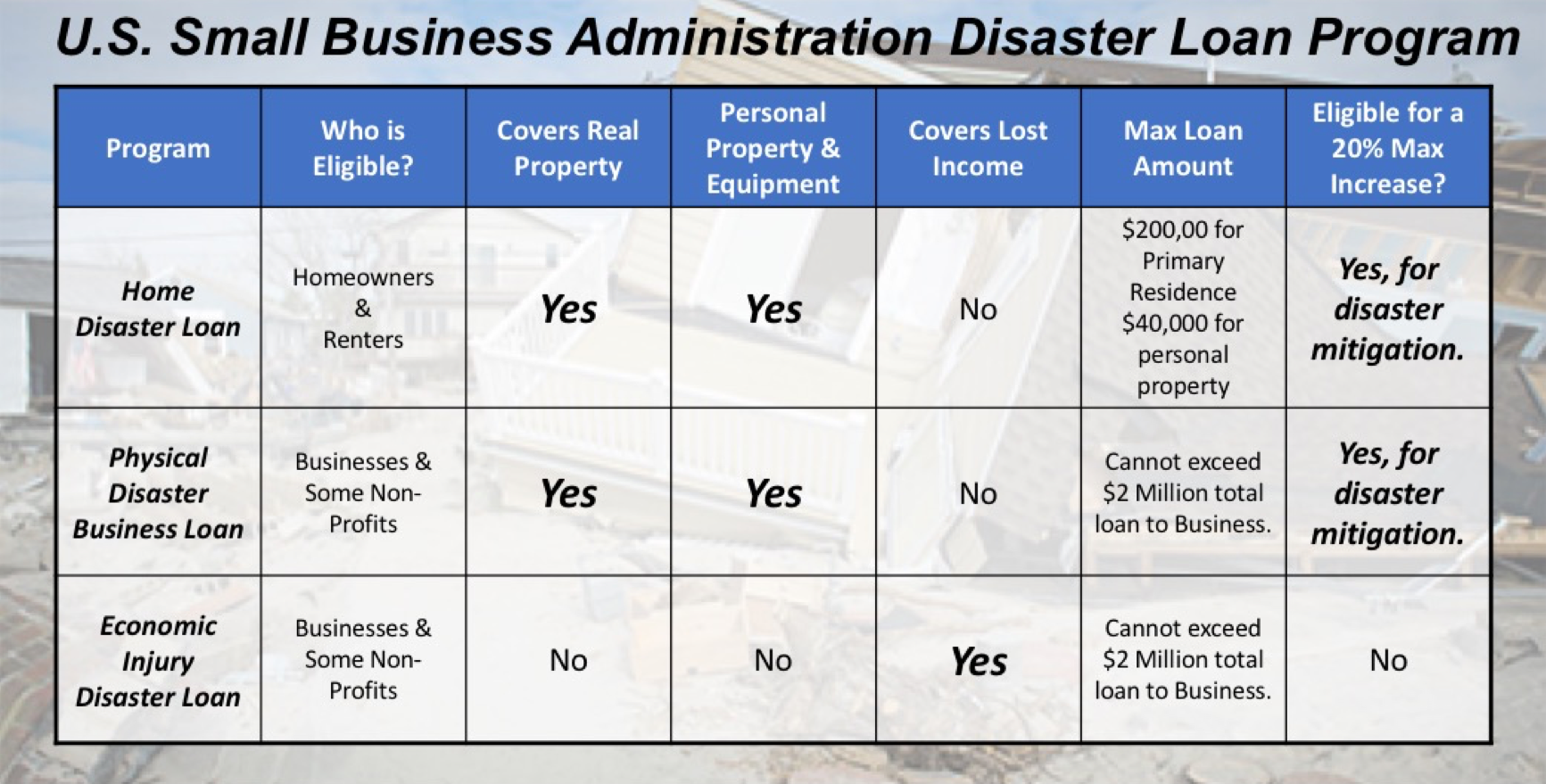 The Allen Firm, PC
181 S. Graham Street | Stephenville, Texas 76401
Ph: 254.965.3185 | Fax: 254.965.6539
The Allen Firm, PC is composed of a team of attorneys located in Stephenville, Texas. Our mission is to improve people's lives by providing reliable and practical help with their legal matters while operating under our values of honoring people, operating with integrity and striving for excellence. We offer help in forming businesses or companies, estate planning, lawsuits, real estate, probate, oil and gas, collections, agriculture, bankruptcy, family law, and accident and injuries.
*This article has been written and provided for educational purposes in an attempt to provide the reader with a general understanding of the particular topic and area of law covered in this Article. It is not to be relied upon for any purpose. The reader acknowledges the underlying analysis and legal conclusions referenced in this Article may be inaccurate by the changing of the law or by a controlling court opinion to the contrary. No attorney-client relationship exists until an appropriate engagement letter has been signed. Contact our Firm to discuss how the contents of this Article may apply to your specific situation.
You may also be interested in:
After a disaster, many things start happening all at the same time. However, after a disaster survivors have often lost most of their worldly possessions and paperwork to help prove who they are and what they own. The lack of documentation frequently leads...
read more